Frequently asked questions about fishing trips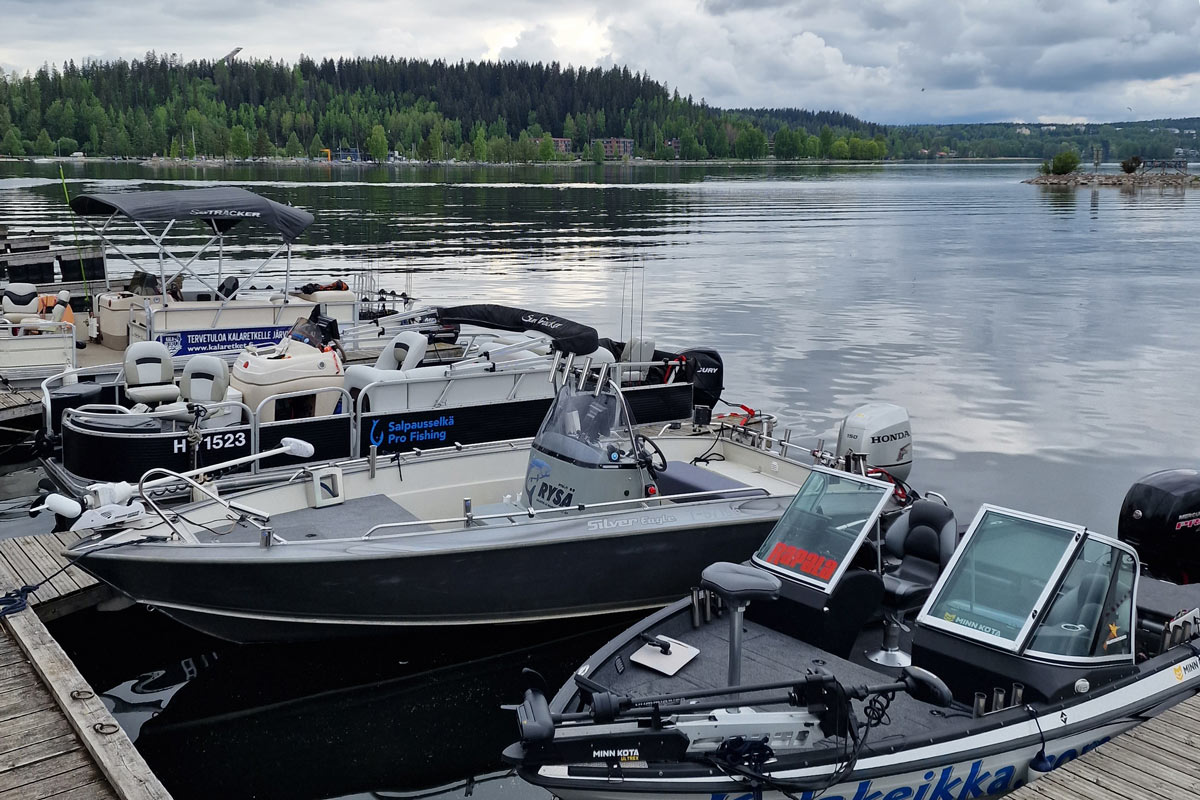 Fishing trips can be attended by beginners, but even an experienced fisherman will benefit from the local knowledge and excellence of the guides. All programme services are always customisable according to the customer's wishes.
The angling trips are always planned according to the customer's needs. Each trip is planned individually. The length of the trip can vary from a three-hour outing to a multi-day fishing excursion. For longer excursions, the price includes picnic lunches and coffee roasted over an open fire that we enjoy on an island halfway through the angling trip.
Angling methods are agreed with the customer in advance, according to the best fishing season. See the package examples here:
Jig fishing
Trolling
Casting
You can participate in the angling trip alone or with a large group. The larger group's angling trip is carried out with several boats and fishing guides.
It is the duty of every recreational fisherman to handle the fish caught properly and respectfully, and this is what we want to teach our customers as well. We use fish containers with an oxidiser, where the fish stay alive and from which customers can choose suitable fish for cooking if they so wish. We follow the recommendations of the Finnish Fishing Guide Guild in the number of catches and in both minimum and maximum length of the fish that can be caught.
The excursions follow the principles of responsible fishing, which is why catch quotas and maximum lengths for the fish are in use.
Perch: max. 5 pieces per person, longer than 35 cm are released.
Pikeperch: max. 2 pieces per person, longer than 60 cm are released.
Pike: max. 1 piece per person, longer than 80 cm is released.
We will release unharmed, undersized and protected fish so that there will be enough catches for all fishermen in the future as well.
The fishing vessels are three high-quality motorboats and two accessible fishing rafts. Their modern engines are low-emission, but powerful. Thus, the transitions on excursions go smoothly and safely, and with as little carbon footprint as possible.
Modern technology helps to guarantee a successful day of angling. Electronic aids can be used to monitor underwater life, even if you are not interested in the fishing itself. The rods and reels are of high quality and always the most functional choices for the type of fishing in question. Lures are always updated to reflect the latest trends.
All fishing vessels are equipped to meet the highest safety standards. In addition, each participant will be provided a life jacket or, in cold weather, a flotation suit for an additional fee. The guides know how to navigate safely even in more challenging conditions. So you can step on board and enjoy the carefree ride.
For a angling trip, you only need to pay the Fisheries Management Fee. You can find more information about the fisheries management fee HERE, which you can buy online or at R-kioski convenience stores. We can also buy it for you for an additional fee of € 10 per person.
You also need weather-appropriate clothing. Flotation overalls are also available from guides at an additional cost.